As your piano tuner Naperville, I have proudly provided professional piano tuning, piano repairs, and piano maintenance in northern Illinois for over ten years. My goal is to provide the best possible piano services to each and every piano owner. Please enjoy visiting the various pages of my website so as to familiarize yourself with my training and my piano tuning services.  I offer piano tuning and repairs for homes, churches, schools, recording studios, and teaching studios. I also offer evaluations for the purchase or sale of your piano.
I graduated with honors with a Bachelor of Arts degree from North Central College in Naperville, focusing on piano performance. This training helps me to better understand the desires of each pianist, in addition to understanding the technical aspects of the piano. I am able to work with you to optimize your piano's performance. I am fully equipped to handle most piano tuning or piano repair jobs to your complete satisfaction.
MY PRIORITY IS YOUR OPTIMAL MUSICAL EXPRESSION
"My purpose is to help you find full expression of your musical vision by optimizing your piano's performance."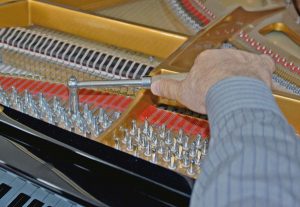 Ryan Veitch
Naperville Piano Service
Please call us at 630-992-1155
Or book an appointment online HERE
Experienced
I have provided professional piano services in Northern Illinois for over ten years. My goal is to provide the highest quality of tuning and repair services.
Personalized Service
I have the ability to optimize your piano's performance so you can reach your full musical expression.
Committed to Excellence
I stay current with the latest developments and the newest techniques in piano care by attending seminars provided by the Piano Technicians Guild.